Examples of types of websites and tips to help you understand what's best for you
There are around 2 billion websites all over the Internet. That's more than the stars in the clear night sky that the human eye can perceive. Even though this may sound a bit overwhelming, there is a simple trick that can effectively make this matter more understandable. It's called categorization and it's been used for centuries in every aspect of life. By dividing the existing websites into different types, you simply allow yourself to get to know and understand them better. That would also help you see the difference between them. Also, it will be a huge help with the aim of understanding which of them is suitable for your goals. The main purpose of this article is to help you with this task.
Although there may be various criteria that can be used to categorize the different kinds of websites we choose to present to you the most common website types. We also include some examples and good practices from each kind.
1. Personal Blog type of a website
Blogs have been a generally adored and favored kind of website for people and families who wish to chronicle different occasions of their lives. 17 years ago, when WordPress was created, its aim was to serve as a blog-publishing system. We all know that gradually WordPress evolved into a complex CMS able to support all different types of web content. And still, WordPress is the most common and renowned platform for blogs and its usage ranges from small bloggers to complex brand-building teams.
There are still millions of blogs on the internet. The main tone of a blog is informational and can be easily kept up to date by one or several people. Blogs can be created on different subjects – culinary blogs, travel blogs, a blog for sharing personal memories, beauty blogs, and so on. If you want to start a blog our simple advice is to keep it authentic. Personalize it and make sure that you are adding unique content to it. That will help you to distinguish yourself from the competition and help you to attract more new visitors.
Even if your website type is not a blog, it's yet a helpful additional element to add intrigue and inside information to your website. A section with articles or interesting facts on your subject can attract new customers and will definitely benefit your SEO. Simply ensure to update it on a regular basis.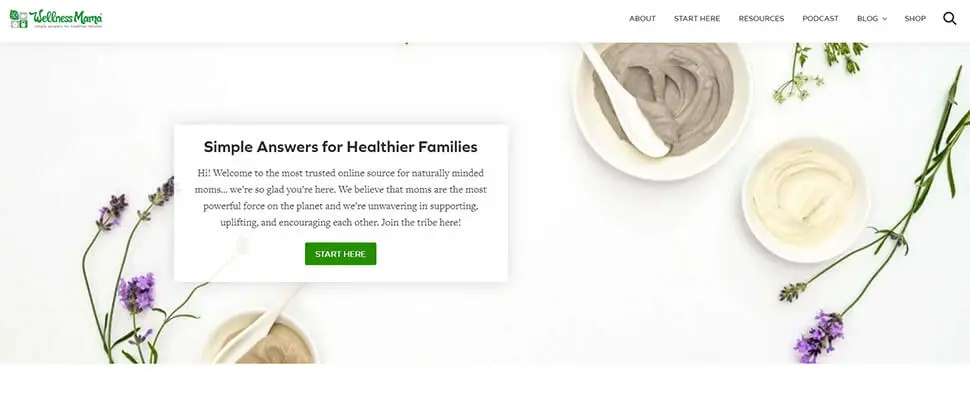 A great example of a successful personal blog is WELLNESS MAMA. It's a health and wellness blog for mothers. As you can see the target niche is very specific and, in this case, this is one of the reasons it's so successful. So, do your research before starting a blog and go for a specific audience that's still not represented informationally. That will guarantee you a great start!
2
.

Business and corporate websites

A business site is any site that is focused on the representation of a specific business. If you own any kind of business and you still don't have a website, we advise starting planning one right away. The online presence is of huge importance for the business's credibility. Even small businesses should have an online representation, in the digital-minded world we live in. That will help the business to be pinpointed, and it's a great channel to promote and reach new potential customers. In fact, there are a great number of practices online that can help you boost your business. And believe us, you don't want to lose in that field! If you are looking for a professional website in a timely manner, you can contact us right away!

Business and corporate websites can be very complex and big. Their structure contains complex menus and a large number of pages. Naturally, these websites can be far more expensive than a simple blog. But WordPress offers a lot of budget options for medium and small businesses and is a preferred platform for this kind of website. It's an extremely user-friendly CMS (Content Management System), easy to build, and can save you a lot of time and money.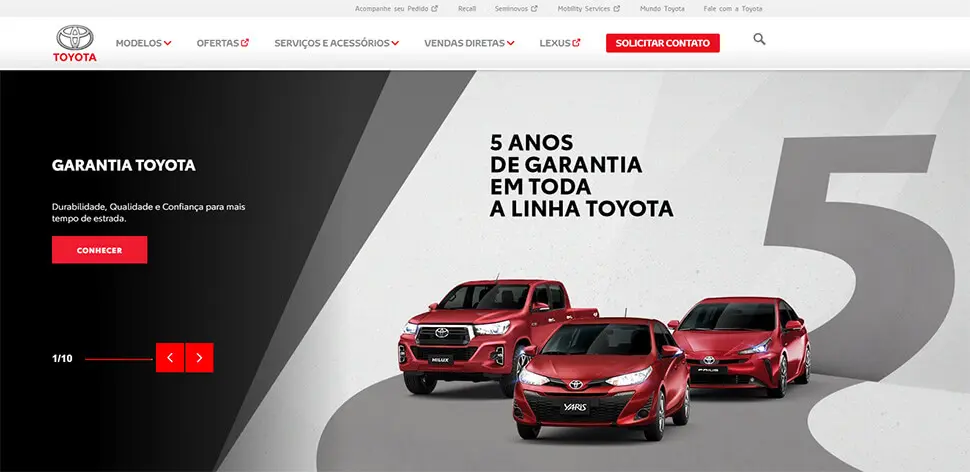 A great example of a business website, built on WordPress is the site of Toyota Motors Brazil.
3. E-commerce
The most direct way to profit from your website is most definitely the e-commerce sites. These kinds of websites are generally described as online shopping directories and their main purpose is to simply sell products to customers online. Every website that includes a shopping cart and a way to pay with a credit card, PayPal, or any other payment gateway is considered an e-commerce website. These online stores can function as standalone websites, or can be an addition to a blog or corporate website.  
Ecommerce websites became increasingly popular mainly because of their huge improvement in recent years. Almost every reliable CMS offers tools or plug-ins for selling online nowadays. WordPress has to offer a flexible open-source plug-in called WooCommerce specifically designed for selling products or services online. The major advantage of WooCommerce over other platforms is that it's fully customizable which makes it adaptable to specific business needs.
In case you're figuring out how to start a business and plan to sell items through your website, at that point, this is the sort of site you will need. There are some particular advances you must make certain to incorporate when fabricating an eCommerce site. You should put your resources into eCommerce development and get your SSL certificate to guarantee your clients can pay safely.

The most popular and huge e-commerce platform in the world is Amazon.
4. Portfolio
We use Portfolio websites to showcase one's previous work. Creative professionals like artists, designers, photographers, architects, and filmmakers use them to highlight all kinds of projects. These websites are creative by nature and typically have unique designs with different layouts and features.
If you are a freelancer looking for new clients, or a job seeker this is the best way to put a comprehensive image of your talents and build a reputation. Portfolio websites don't need multi-level menus or large numbers of pages and they are generally easy to build.
A great example of a creative and aesthetic portfolio is one of Steven Mengin.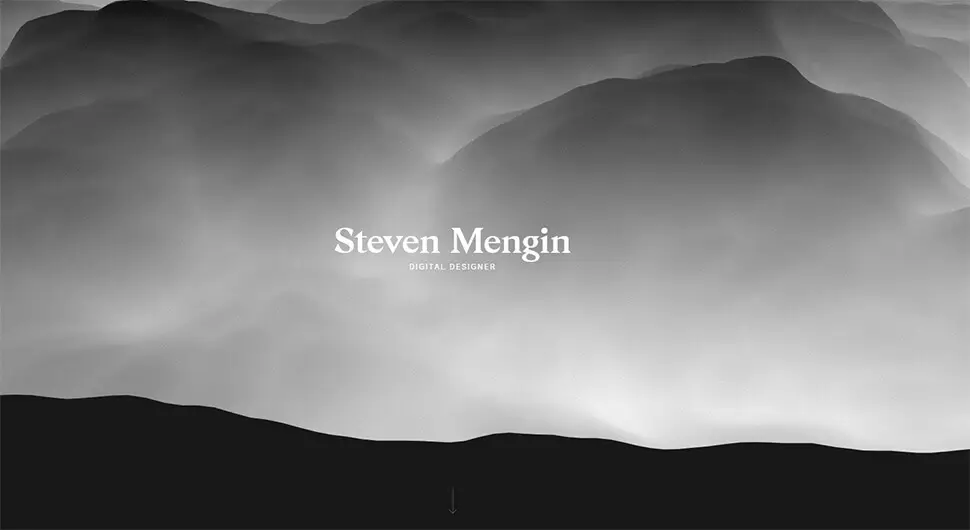 5. Media & Entertainment websites
Media and entertainment websites have become quite a big consumer of our time spent online. They both have content that scoops our everyday life and are always fresh and updated. Newspapers and magazines are revolutionized from print-only platforms to largely digital formats, called media websites. They still have reporters and journalists to write on important subjects but also feature entertainment content like gossip stories, fun facts, quizzes, and similar.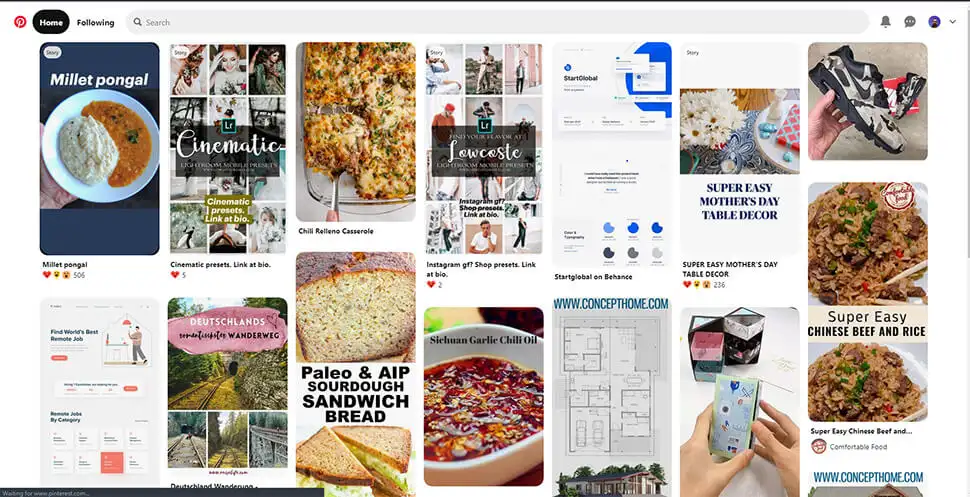 Entertainment websites on the other hand also sometimes include some media topics. That makes the line between them blurred. Both of them are extremely dynamic and can directly earn you profit like e-commerce websites. You achieve this via paid ads that appear on the site, subscription models, or a blend of the two.
6. Brochure & Catalog websites
Brochure and catalog websites have entirely informational purposes – giving a review of what the business is, and how you can get in touch. They were used back in the days by small and middle-sized businesses just to mark an online presence without aiming to develop an online strategy. Brochure sites normally just have a couple of pages and are utilized by independent or small businesses that need a straightforward online presence.
They are perfect for dental surgeries, hair salons, manufacturers, etc. Unlike the media websites, the content of the brochure and catalog website is far more static, which means that they don't need regular updates.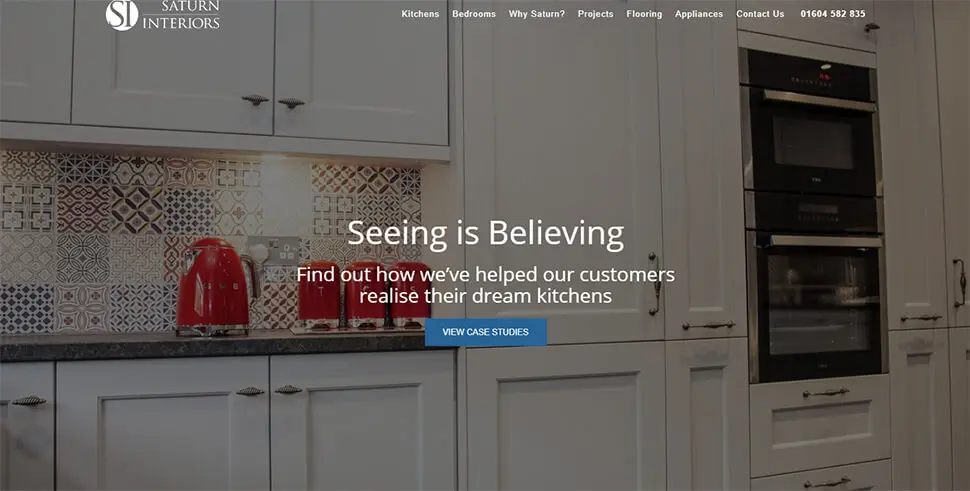 7. Educational websites
Educational websites refer to sites of educational institutions, a platform with tutorials for self-learning, or a website with educational content for kids. These websites have the fundamental purpose of either giving study materials to their audience or giving information on specific educational organizations. Their content includes articles, videos, games, tests, and images that aim to educate the audience. Some of these sites include ads in their content or use the subscription model to earn a profit.
Educational websites in some way are switching the use of libraries for gathering basic information. Their use is an important key to self-education and self-prospect nowadays.
Brightstorm is a great example of an online learning platform for teenagers that is used by more than 12 million students and 800 schools.

8. Web Portal
Web portals are websites intended for internal purposes of business, association, or establishment. They are platforms that gather information from lots of different places and present it in one. Web portals involve a login process and customize views for their users to data of a specific institution, business, or organization. Variants of portals include mashups and intranet "dashboards" for executives and managers.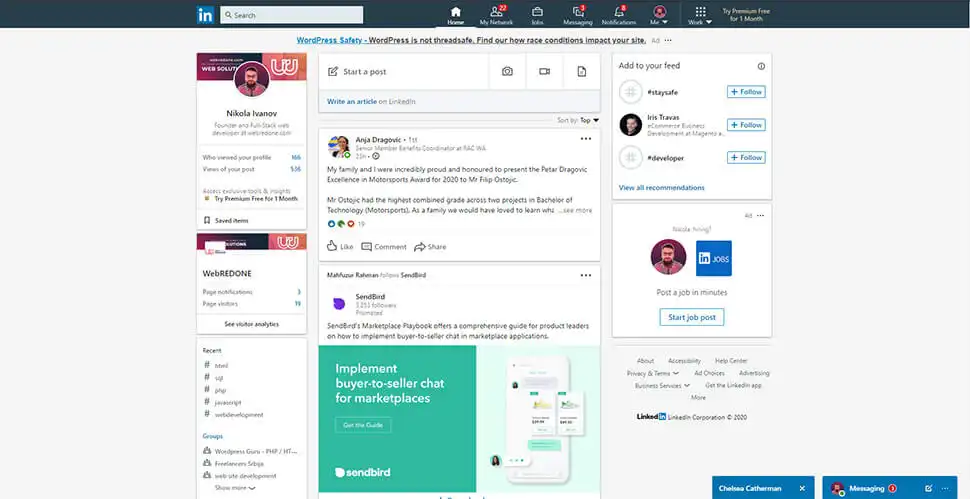 We define Web portals as the most complex and difficult to make. Because of their complexity, they are rather Web Apps than websites. They can contain hundreds and thousands of pages, multi-level menus, and a large number of options and modules. Corporations and large educational institutions utilize them to make all crucial data open to individuals who need to see it.
WordPress offers some paid plug-ins that can help you generate a web portal. However, if you want to build a portal we advise you to contact professional developers who can help you with this task.
9. Crowdfunding or Payment Platforms
The modern practice of funding a project or venture, also known as Crowdfunding, is achieved by raising small amounts of money from a large number of people. Crowdfunding websites serve the idea to find financial help for your cause or idea online.
Popular crowdfunding websites include Kickstarter and Patreon.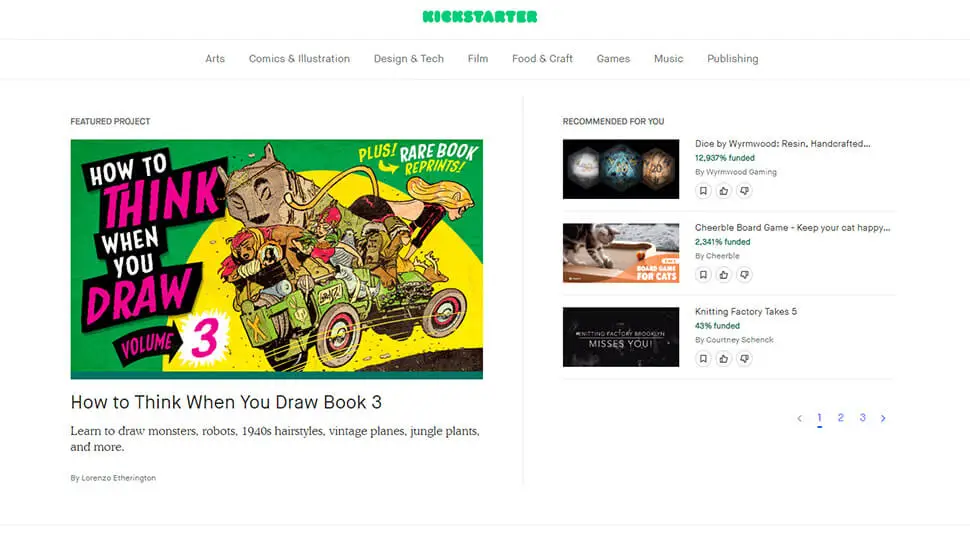 10. Nonprofit websites
Just like any business, nonprofit organizations also need to appear online. A nonprofit type of website serves as an informational site for the purpose of a nonprofit and also helps with its biggest challenge. Which is finding funding and bringing more awareness to a certain cause or problem.
These websites often encourage volunteering, donating, and any kind of collaboration that will help with the realization of a specific cause. If you already have a nonprofit organization and still don't have a website, you should start exploring the possibilities of creating one.
Nonprofit websites are quite straightforward. They usually have functions to collect email addresses and create a database of people interested in keeping in touch with the organization through newsletters.
One drop is a nonprofit that provides sustainable access to safe water to millions of people across the world.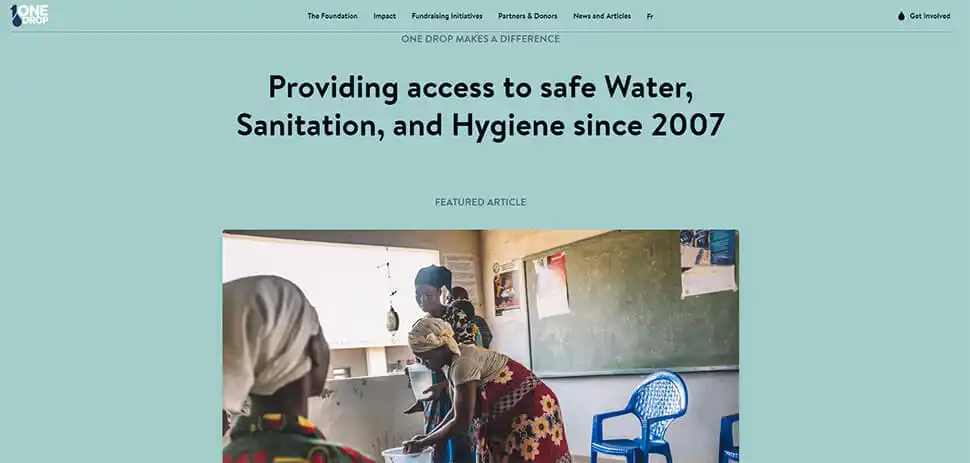 Summary:
We outlined 10 of the most popular types of websites that are created worldwide every day. The best part is that all of these types of sites can be built in WordPress. And it's done fast and can fit your budget. It's up to you to decide what form will fit your needs best. Whatever kind of site you're keen on making, make sure your final decision offers real value to your audience.
From that point, it'll take some more research and planning to guarantee that you're following the best practices to build your online presence. A website that is both stylishly satisfying and easy to use is vital for your success in the future.
Check out our open-source WordPress starter theme
It supports React, Vue and Svelte, includes a framework for creating custom Gutenberg blocks, and so much more. You will love it.