As an emerging web development house, we constantly strive to make every project as perfect as possible because client satisfaction matters. Our diverse team of experienced resources focuses on building long-lasting relationships with our customers as we journey through a project together.
It's no easy task, but we do it because we care.
That's also why we're immensely proud to announce that we've won a leadership award for top development firms in Serbia on Clutch!
Clutch is an independent research firm based in Washington, DC. They provide industry insights into high-performing service providers within the B2B space, analyzing each company's market presence, technical experience, and client feedback.
Clutch Leaders in Serbia demonstrate a proven ability to deliver exceptional services, and it's a real milestone for us to achieve this title.
In the words of our leader:
"It's an honor being recognized as a leader on Clutch. It means that all the work
we do, and the effort we provide for each of our clients, is not meaningless."

— Nikola Ivanov, Founder
Over the past few months, we've worked with Clutch's business analysts to interview our past clients to collect case study-like reviews. We've worked on a range of projects, including custom WordPress and WooCommerce development, React apps, load time optimization, and SEO.
We had the chance to show off all of our skills while partnering with Bixlabs, a startup-focused development house. We still work with them to build out WordPress sites for their third-party clients and they've left us a 5-star review in exchange!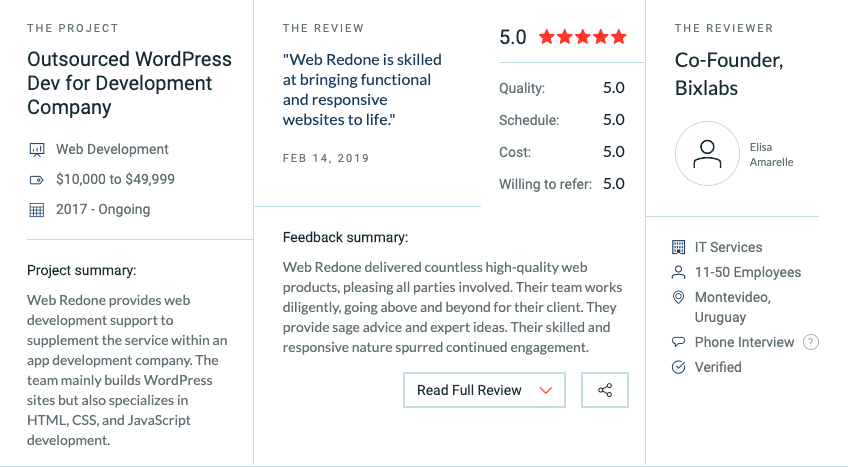 Thanks to all of our positive client feedback, we were able to secure a top position in both
Clutch and its sister sites — The Manifest, a business resource guide, lists us among leading
development experts in Serbia, and we're also featured on Visual Objects for our ability to
create and design top websites.
Again, we're thankful to all of our clients for leaving such positive reviews. Without you, we
wouldn't be able to grow as a company.
Don't be a stranger if you'd like to collaborate on a project with us or have questions about our portfolio!
Contact our team to get an inside scoop on our services.